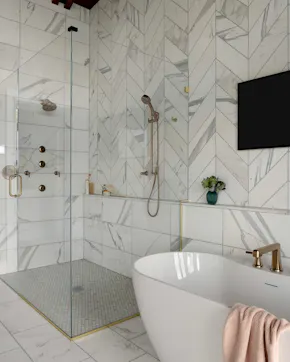 Flawless Marble Details
In the bath, we used a Carrara marble laid three ways: herringbone, a modern stack on the half wall, and brick-laid on the floor. Running through the wall of the shower and tub is a functional and decorative touch. A ledge is perfect for shampoos and soaps in the shower, and above the tub, it can hold accessories and candles.
Warm Touches of Gold & Blush
The accents of gold and blush decor used throughout the bathroom create a warm and relaxing environment. Whether taking a long soak in the tub or enjoying a show during your morning routine, this bathroom is made for self-care and rejuvenation.