Award-Winning Fireplace Transformation
Fireplace Remodeling Design
Anchoring the family room is the dramatic fireplace featured in Better Homes and Gardens. finished with a Quartz surround and smoke-colored, rift-cut oak wall panels. Notice the ode to the homeowner's love of horses on the mantel—fun fact, they own racehorses too!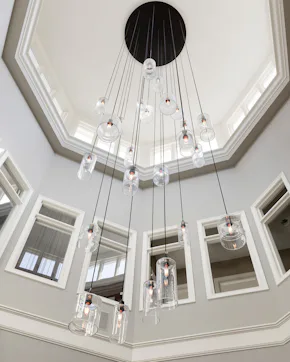 Soaring Vistas
The sixty-foot light fixture that scale's the windowed rotunda steals the show. A feature as grand as this one required a bit more extra time and energy, and it was worth it! For each pendant, we placed each at specific heights to make it look natural and evenly spaced.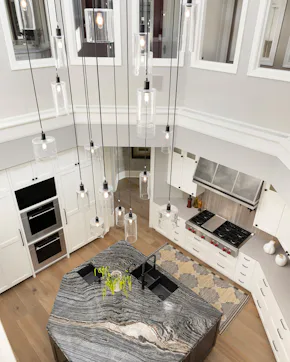 Love at First Sight
When selecting the finishes for the kitchen, the homeowners instantly fell in love with the island material. In fact, the island is two slabs of material that were seamlessly joined together. With neutral cabinets and countertops, this stunning quartz slab pops.
A closer look at the center island. The bold Quartz that evokes a natural geode and provides visual interest.