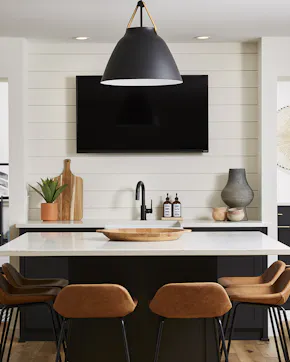 Casual Conversation
As big entertainers, the layout needed to function so the family could host friends and family. The spacious island comfortably seats six. Installing a second TV above the sink eliminates anyone needing to strain their neck in order to check the score of the game. Hidden behind the kitchen wall sink are a refrigerator, storage, and prep space.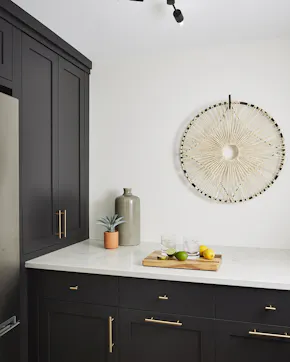 Conveniently Hidden
When hosting, this space behind the wall gives the homeowners an area to keep the mess away. We placed the refrigerator on the inside wall to maximize storage and counter space.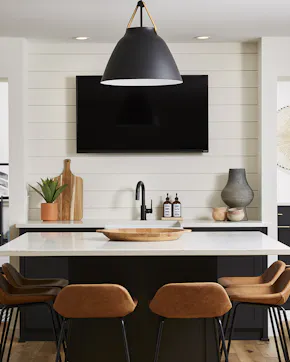 Designated Kid's Space
On the other end is another doorway that leads to the kid's play area. Again the separate space is an important detail because it keeps the kid's toys from intruding into the adult's space.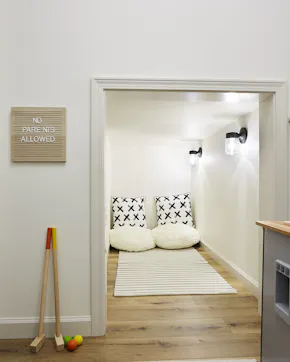 "No Parents Allowed"
Connected to the kid's area is an extra play space under the stairs. Jelly jar lighting and finished flooring give them a comfortable and private nook to have quiet time and read a book.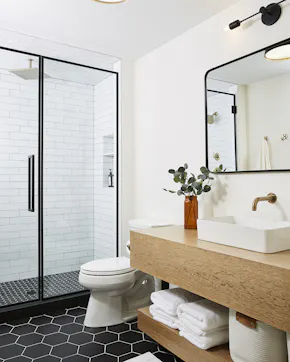 Clean & Simple Lines
Conveniently located down the hallway is a bathroom featuring a large black framed glass shower with a rain shower head. We used a large format hex porcelain tile on the main floor and then repeated a smaller hex tile on the shower floor for continuity.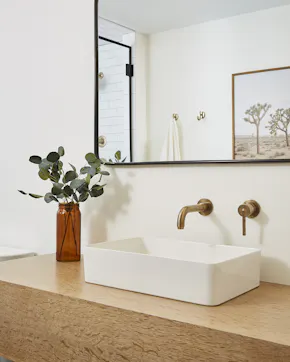 Pairing with Warm Wood Tones
Softening the space is a custom wood vanity that plays nicely with the wall-mounted faucet.